A UNIQUE PLACE IN BARCELONA
KNOW THE STORY
ou will find the restaurant Mariscco Reial (previously Taxidermista) right in the heart of the Gothic Quarter, in Plaza Real, in a "Renaissance" building dating back to 1850. It was once home to the Gran Café Español and later the Pedagogical Museum of Natural Sciences and taxidermy workshop
A place frequented by notable characters in the world art and culture such as Joan Miró, Ava Gardner, Mario Cabre, who dissected a bull's head whilst toasting Ava Gardner, and Salvador Dalí. This is where Dalí dissected a tiger, and bought ants for his paintings. He once commissioned the dissection of a rhino, perhaps as inspiration for his painting "Rhino dressed in Lace," 1956.
THE SPACE
MORE THAN A RESTAURANT
Respecting the original architecture, Mariscco Reial offers the option of eating in a large indoor space with high ceilings and eclectic decoration. A large open-air terrace is available, as well as another terrace below the porches of Plaza Reial, which is open all year round and offers a cosmopolitan ambience. Mariscco Reial welcomes its guests with a counter full of seafood and fresh fish from Spain. Fresh and top quality ingredients stand out in its Mediterranean cuisine. Their specialties include lobster risotto or crayfish risotto, cooked to perfection. The climatized wine cabinet allows you to choose from a wide selection of wines.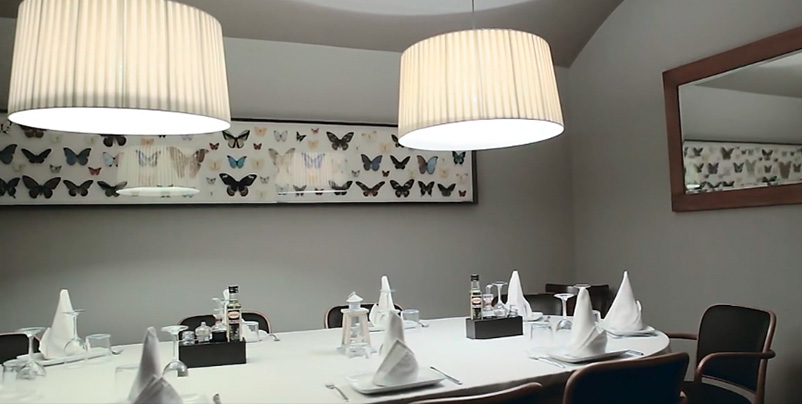 BUTTERFLY ROOM
Ideal hall for meetings and private celebrations with small groups. AC/Heating system with capacity for 14 persons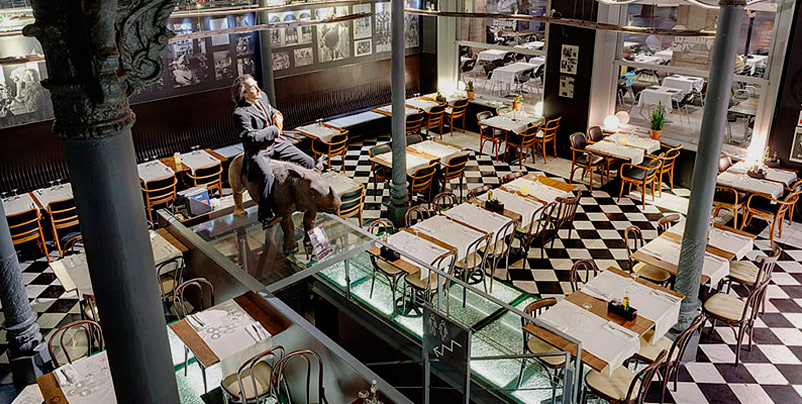 GAUDI MAIN ROOM
Diaphanous space with splendid views of the Plaza Reial (Royale Square) and its elegant decoration pays homage to the restaurant's history. Presided by the life-size figure of Salvador Dali on a rhinoceros, inspired by the artwork "Rinoceronte vestido con puntillas" (Rhinoceros dresses in Lace). The hall is completely furnished for entertaining lunches or dinners with live music such as piano, Jazz group, special performances and a Dj. AC/Heating with capacity for 100 persons
WINE CELLAR ROOM
Outstanding for its comfortable and relaxing atmosphere. The hall has maintained its original stone walls and is completely soundproof. It is equipped with its own drinks bar and is perfectly adapted to organise any type of private event with live music performances. Optional screen for film projections. AC/heating capacity for 32 persons.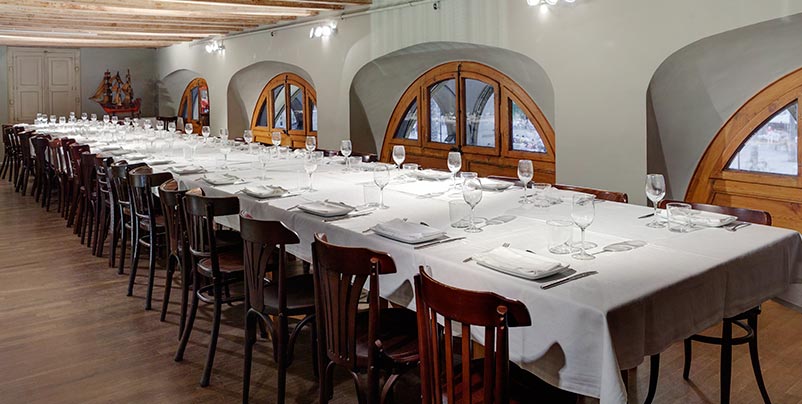 TAXIDERMISTA ROOM
Located in the upper floor of the restaurant with magnificent views of the Plaza Real (Royal Square). Charming and cosy decoration thanks to its ceiling with wood beams. Option to equip hall with screen. Projector and audio system for your events. AC/Heating with capacity for 45 persons